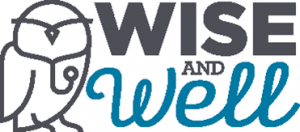 2021 Virtual Health Fair Recordings
Click on an image below to view the presentation
"How Mindfulness can change your perspective"
– Join Emily Urban, LCSW to learn tools and skills for managing stress, anxiety, and depression during these uncertain times.
---
"Have you ever wondered?" – Join Naturally Slim to learn how you can keep your mind and body prepared for whatever life brings and be in awe of what you can accomplish!
---
---
"Positive Psychology with Rick Vinnay" – Positive psychology explores what enables people to flourish. It examines how people can cultivate happiness, strength, and resilience, and ultimately live a fulfilling, meaningful life.
---
"Train Your Brain" – Kathy Ives will lead you through some fun activities designed to improve your brain health.
---
"Tai Chi for Balance." – Join Melody Madrid of Resolute Senior Wellness to experience the benefits of Tai Chi for arthritis and fall prevention.
---
Part 1: Cooking demonstration with Ana Hernandez.
---
---
"Heartfulness Relaxation and Mediation" – Join Sadhana Panuganti to experience peace, joy, and purpose in your heart.
---
"Medication and Vaccine: Best Practices" – Presented by Sam Gadzichowski, Pharmacist with Humana – Join the conversation about managing your medications, potential side effects of medications, and routine vaccinations. including the COVID-19 vaccination.
---
"Fighting Inflammation with Food" – Did you know that what you eat can impact how your muscles and joints feel and move? Certain foods cause inflammation while others are natural anti-inflammatories.
---
"Living Healthy with Diabetes" – Join Jo Halstead with Livongo and learn how to get the support you need to manage your diabetes more effectively. View Handout
---
---
Click on an image below to view the presentation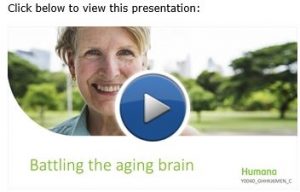 Battling the Aging Brain (presented by Humana) – The brain is one of the most complex organs in the human body – learn how the brain works and ways to help keep it healthy as you age.
Brainshark recording – Battling the Aging Brain: View Handout
---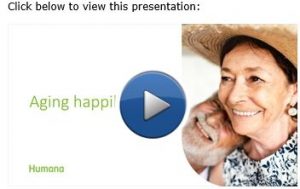 Aging Happily (presented by Humana) – Many people think of getting older as a bad thing, but it doesn't have to be. Aging can be a gift if you look at it the right way.
Brainshark recording – Aging Happily: View Handout
---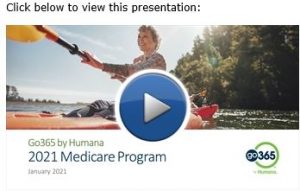 Go365 Wellness and Rewards program – Go365 by Humana is the wellness program that rewards you for making healthy choices.
Brainshark recording:  Go365 by Humana: View Handout
---
---
MyHumana
– Your online resource for personalized health benefits information.