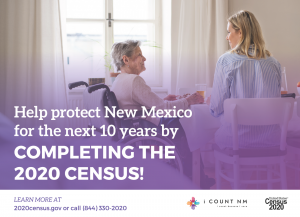 We all care about keeping our communities healthy and ensuring access to healthcare for our members. One way we can improve our community's health systems is by completing the 2020 Census.
The census determines the funding our state receives for Medicaid, Medicare (Part B), health care centers, programs for seniors and more. Filling out the census is simple, your answers are secure and your response can help improve New Mexico for the next decade. Visit 2020census.gov or call (844) 330-2020 to respond today.
Or click on the photo to go to 2020census.gov.
COVID-19 (Hotline 1-855-600-3453; Non-Emergency 1-833-551-0518)
Employer-Employee Newsletters
Health Plan Resources
BCBS
Humana
Presbyterian
UnitedHealthcare
For wellness information for each provider go to the following link and scroll down to each provider: